DJF Series Centrifugal Push-Pull Exhaust Fan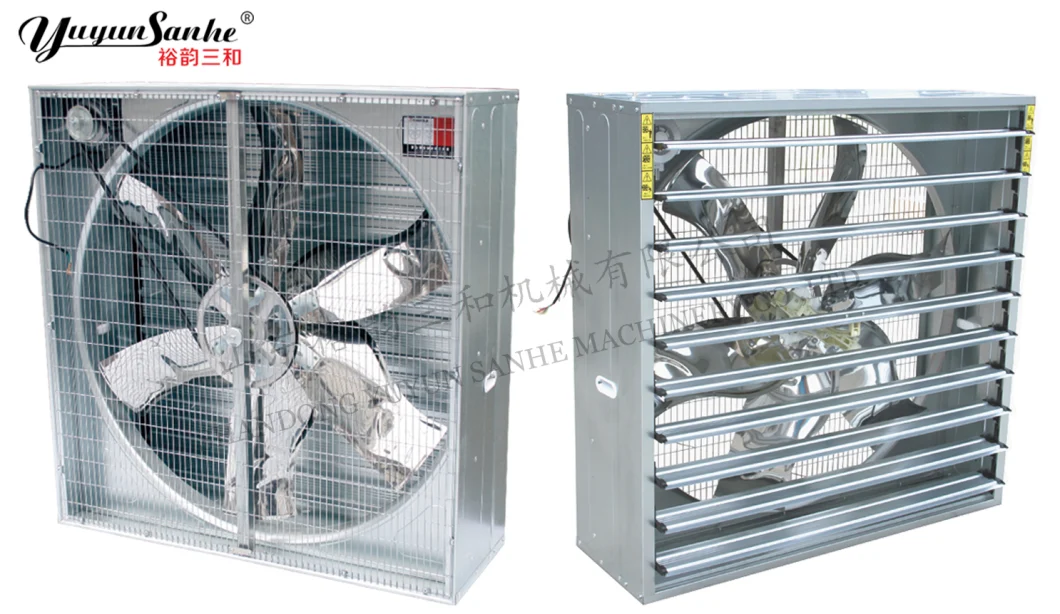 Product Application:
DJF Series Centrifugal Push-Pull Exhaust fan are widely used in Agriculture and industry ventilation and cooling. It is mainly used for animal
husbandry, poultry house, livestock breeding, greenhouse, factory workshop, textile etc.
Technical Parameter:
Model





Drive





Blades Diameter




Blades Rotational Speed

Motor Rotational Speed

Air Flow
(m³/h)
Noise Decibels
(db)
Input Power
(W)
Voltage
(V)

Frequency
(HZ)

Outline Size
(H*W*T) (mm)


DJF-750(24in)

Direct

960

960rpm

960rpm

10600

≤70

370

220 / 380/ Customized

50 / 60

750*750*510

DJF-1000(36in)

Belt

500

500rpm

1400rpm

21000

≤64

550

1000*1000*450

DJF-1100(40in)

Belt

470

470rpm

1400rpm

31600

≤64

750

1100*1100*450

DJF-1380 (50in)

Belt

458

458rpm

1400rpm

44000

≤64

1100

1380*1380*450
Product Description:
Frame with Plastic Handle


1. Frame: Hot Galvanized sheet with zinc thickness of 275g/sqm, high anti-corrosion performance
2. Plastic Handle, easy to carry , Convenient to load
Advantage:
YUYUN SANHE has the advanced Complete CNC machine and Laser Cutting machine. Auto punching and bending, the accuracy of the hole is 100%, easy to assemble.

Belt Pulley


1. Material: High strength aluminum-magnesium alloy by die-casting.
2. Blast-sanding treatment, eliminate internal stress to improve its own rigidity and stability
Advantage:
Light weight, Low vibration ,attractive appearance.






Bearing


Imported double-row bearing with special waterproof design.
Advantage:
High strength, low noise, free maintenance and long service life.


Centrifugal System


1.Material: High quality Nylon PA66
2.Guide Rod: 304 stainless steel with special material outside, high strength, no rust, reduce friction.
3.Rivet: 304 stainless steel , wear-resisting, no rust.
Advantage:
It can keep the shutters open at complete 90 degree to ensure the lowest air resistantce and biggest air volume.

Fan Blades


1. Material : Krupp 430 stainless steel, thickness 1.2mm
2. Diameter: 1270mm
Advantage:
Large air flow, no deformation, no fracture, no dust, attractive and durable.
Note:
Blade material also have galvanized sheet, aluminum alloy for option



Belt


Brand: Mitsuboshi belt (Japanese)
Type: B type, B88
Advantage:
B type belt is 3 times longer service life than A type belt, maintenance free.

Shutters


1. Material: Hot Galvanized sheet with zinc thickness of 275g/sqm
2. Shutter Fixed Parts: High quality nylon.
Advantage:
High anti-corrosion performance, open flexibly, long service life, no deformation ,no rust, running stable.

Motor Fixed Nuts and Washer


1. Hexagon Nuts
2. Stainless Steel Washer
Advantage:
More firmly, never loosen. Not rust, Easy to change Motor..

About our Company




Shandong Yuyun Sanhe Machinery Co.,Ltd is the biggest and the most professional manufacturer of ventilation equipment in
China,equipped with the most advanced CNC production lines and laser cutting machines, top quality level in the industry.